10 Most Valuable Vintage Costume Jewelry: Value Guide
A Vintage costume jewelry is the perfect accessory. It helps accentuate your look without breaking the bank or going overboard. Moreover, those shiny pieces in your grandmother's old shoebox might be worth more than a few bucks.
Unique Costume Jewelry pieces range from $100 and can sell for as high as $10,000 depending on the quality of the stones and materials used in making them.
We write this article in hopes that you'll fully grasp the concept of vintage costume jewelry and how to determine their value. To achieve this we have listed and summarized crucial details on the 10 rarest and most valuable vintage costume jewelry the world has ever seen.
The 10 Most Rare And Valuable Vintage Costume Jewelry In The World Today
We sourced information and prices used here from verified online jewelry stores, auction websites, flea markets, and vintage stores. However, prices may vary due to forces of demand and supply or individual preference.
| | | | | |
| --- | --- | --- | --- | --- |
| | | | | |
| | Crown Trifari Ruby Red Glass Poinsettia Flower Brooch | Alfred Philippe | 1933 | $7,499 |
| | Lunch At the Ritz Safari Jungle Belt | Zander Elliot | 1980 | $1,655 |
| | Schreiner New York Black and Pink Champagne Glass Cabochons Ruffle Brooch Pin | Terry Schreiner | 1957 | $1,495 |
| | Christian Dior Musical Box Costume Brooch | Michael Maer | 1952 | $1,470 |
| | Trifari Jewels of India Triple Drop Set | Alfred Philippe | 1960 | $1,237 |
| | Erickson Beamon Multi Strand Chunky Glass Necklace | Karen Erickson | 2000 | $1,075 |
| | Calvaire Patriotic Floral Set | Calvaire | 1940 | $752 |
| | Thief Of Baghdad Jewelry Set | Rice Weiner | 1940 | $525 |
| | Trifari 'Alfred Philippe' Ming Pearl Belly Dragon Pin Brooch | Alfred Philippe | 1942 | $375 |
| | Schreiner Vintage Blue Cabochon and Rhinestone Bracelet | Terry Schreiner | 1950 | $270 |
1. Crown Trifari Ruby Red Glass Poinsettia Flower Brooch
Date:
1933
Price:
$7,499.00
Designer:
Alfred Philippe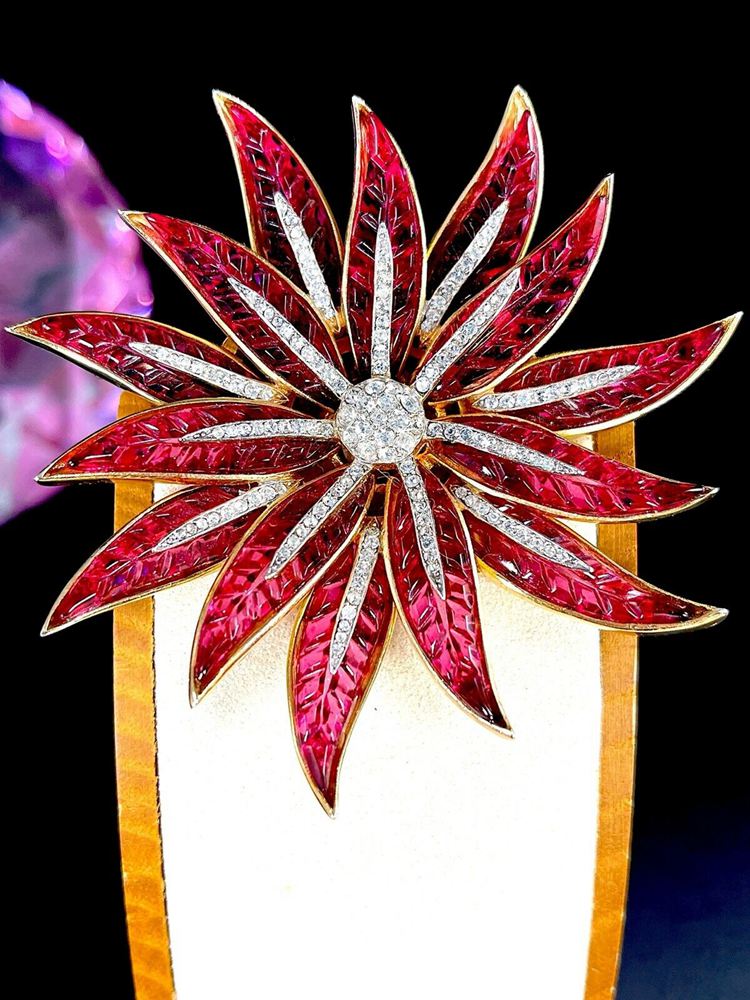 This masterpiece is one of Alfred Philippe's finest works for Trifari yet. The scarce brooch is 3 inches tall, and comes in a stunning ruby red color with an invisible setting. There are silver detail sets in a line on its petals, and right in the middle of the flower is a substantial silver stone.
The ruby red and silver tones create a beautiful contrast and pattern that makes this piece stand out in the crowd. The company made just a limited number of these pieces, and they go for as high as $7,499. The brooch has the Trifari crown hallmark on the other side.
2. Lunch At The Ritz Safari Jungle Belt
Date:
1980
Price:
$1,655
Designer:
Zander Elliot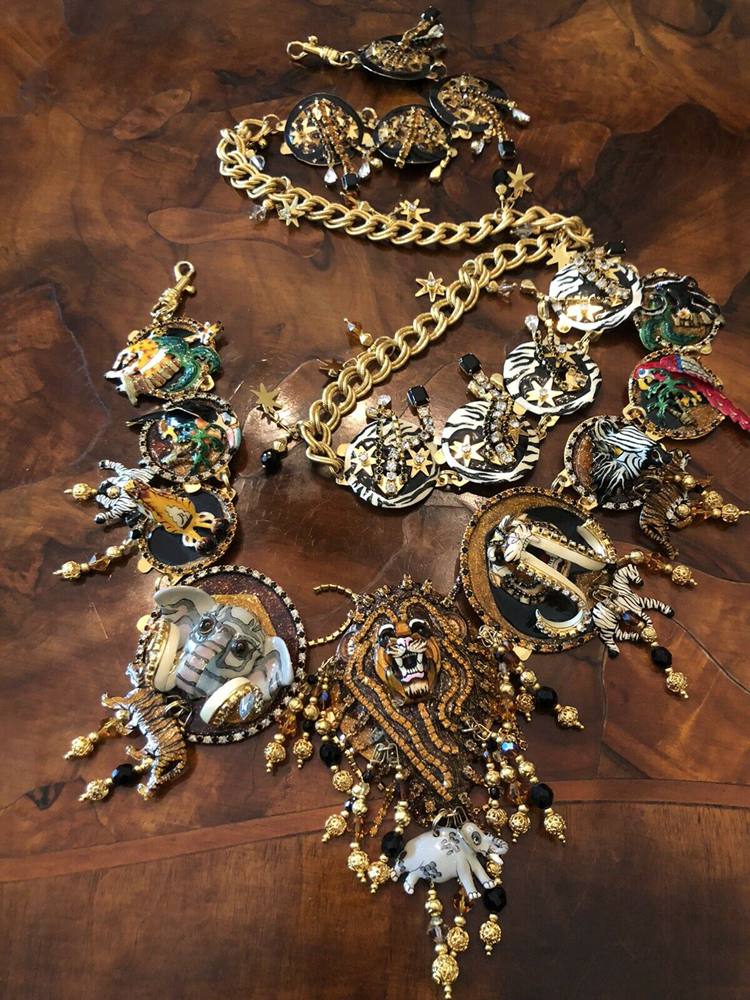 This brass belt has 17 enamel and embellished links. The piece is about 53.5 inches long and has an adjustable hook to fit any size. The animals on it are three-dimensional and they offer an almost realistic view.
All stones used are Austrian crystals and Czechoslovakian glass with semi-precious beads. This rare collectible sells for $1,655.
3. Schreiner New York Black And Pink Champagne Glass Cabochons Ruffle Brooch Pin
Date:
1957
Price:
$1,495.00
Designer:
Terry Schreiner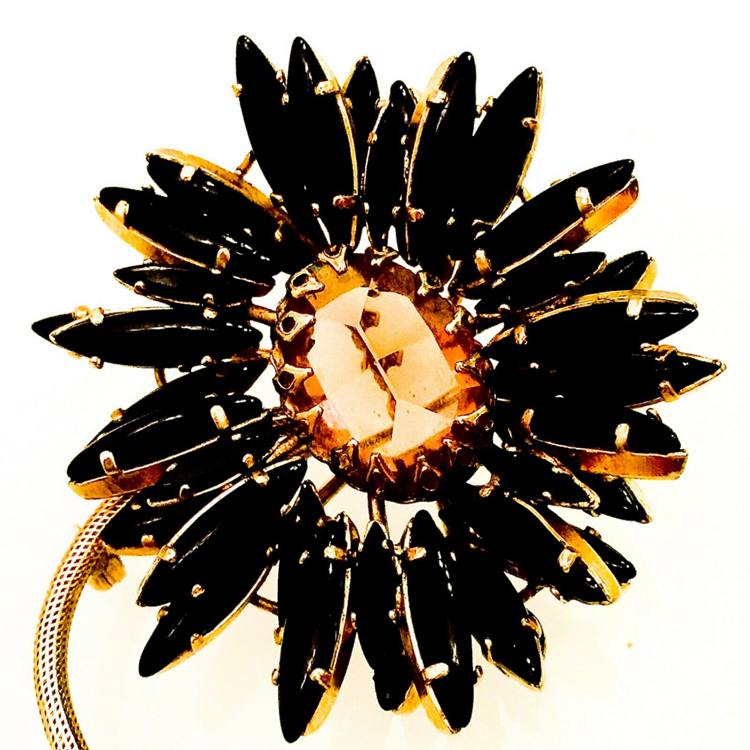 Schreiner created this oval bright yellow piece in the 1950s. The metal is gold-toned, and it has a large pink champagne glass cabochon stone in the middle.
The stone sits in between two jeweled layers made from three black cabochons that give a multi-dimensional ruffle flower outlook. This signed hand-crafted piece is scarce and sells for $1495.
4. Christian Dior Musical Box Costume Brooch
Date:
1952
Price:
$1,470
Designer:
Michael Maer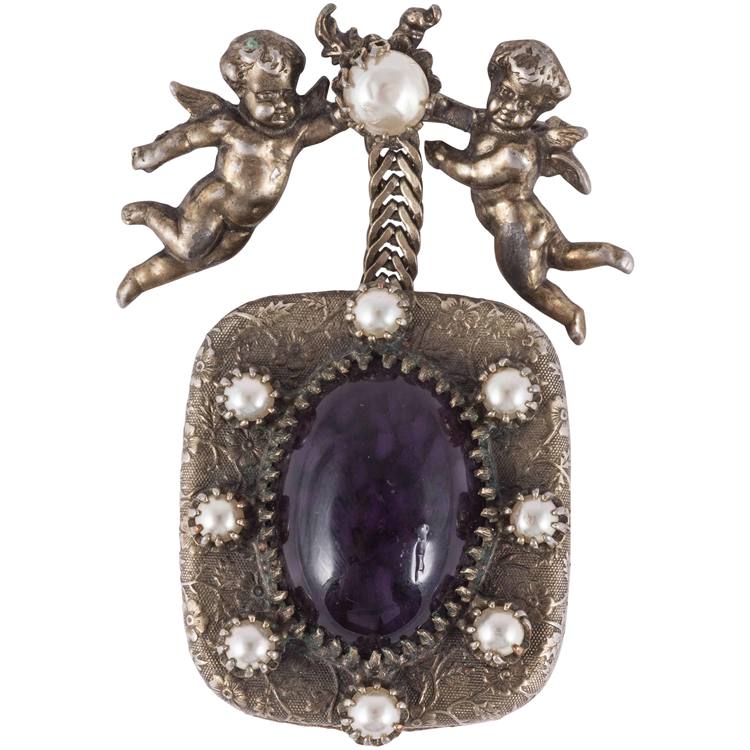 Mitchel Maer created this elegant piece for Christian Dior in 1952. The brooch features a deft hand-painted floral detail adorned in pearls and concealing a working musical box inside. It plays a piece of music when wound at the back.
It's an exceptionally rare piece that measures approximately 6cm by 5cm. It's signed at the back and sells for $1,470.
5. Trifari Jewels Of India Triple Drop Set
Date:
1960
Price:
$1,237
Designer:
Alfred Philippe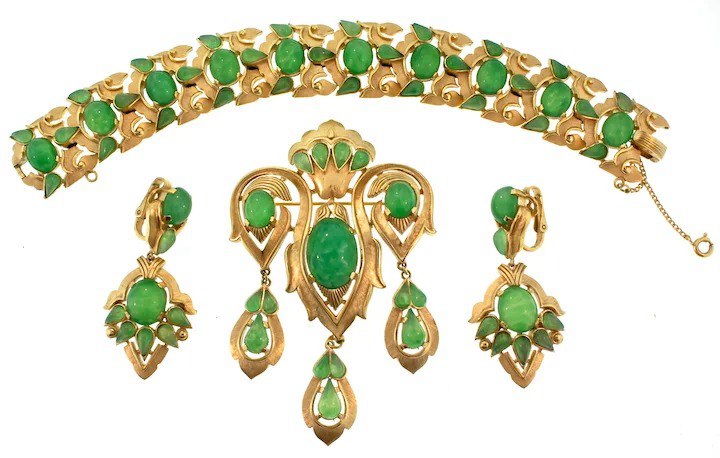 This piece is one of the most highly sought-after items under the Trifari brand. The eye-catching set features gold-plated and false jade glass cabochons. It consists of a brooch with three dangling drops, a dangling earring, and a stunning matching bracelet.
All the pieces in this set feature impeccable designs and the true cynosure of all eyes. They retail for $1,237.
6. Erickson Beamon Multi Strand Chunky Glass Necklace
Date:
2000
Price:
$1,075
Designer:
Karen Erickson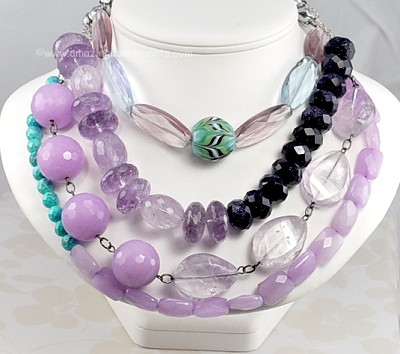 This delicate dainty piece is a four-layered necklace, each strand with beads and gemstones in different shades attached to the chain. The chain adds stamina to this necklace as the weight of the stones can cause it to rip apart.
The rocks on this jewelry come in various colors: lavender, deep purple, and turquoise. Also, this necklace has a huge adjustable clasp shaped like a lobster claw at the back to keep it in place when worn and retails for a whopping $1075.
7. Calvaire Patriotic Floral Set
Date:
1940
Price:
$752
Designer:
Calvaire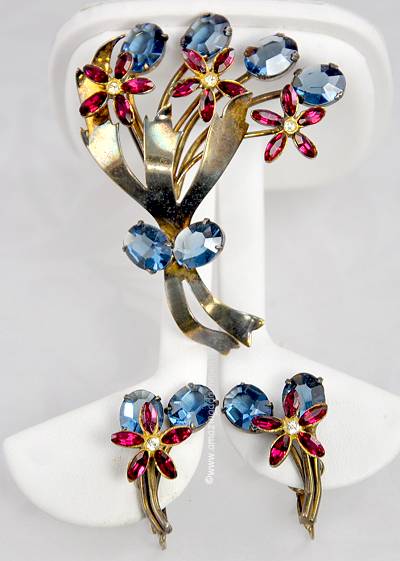 The rare Calvaire is found on the silver, vermeil-washed, elegant floral brooch and clip-on earring set. The red and white glass flowers lie between blue stones on the wire.
Two blue glass stones sit on the stems, and they have open back settings that give you an excellent view when turned over. The jewelry has a signature at the back of the brooch, retails for $752 and was designed in the 1940s.
8. Thief Of Baghdad Jewelry Set
Date:
1940
Price:
$525.00
Designer:
Rice Weiner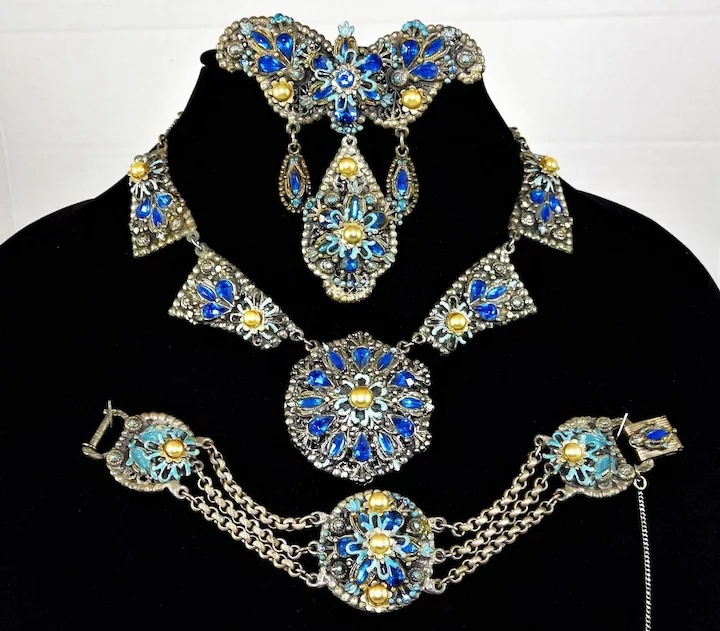 Rice-Weiner designed this interesting piece for Alexander Korda in 1940. It's tastefully designed, heavy, and very pleasing to the eyes.
The metal is silver colored, and the bracelet features five facets heavily decorated with sapphire blue pear and marquise-shaped rhinestones, gold-colored false pearls, and blue enamel in a lighter shade of blue.
One spectacular feature about this piece is that the rear is the same as the front which means you can wear it both ways. Both pieces are signed, and they sell for $525.
9. Trifari 'Alfred Philippe' Ming Pearl Belly Dragon Pin Brooch
Date:
1942
Price:
$375
Designer:
Alfred Philippe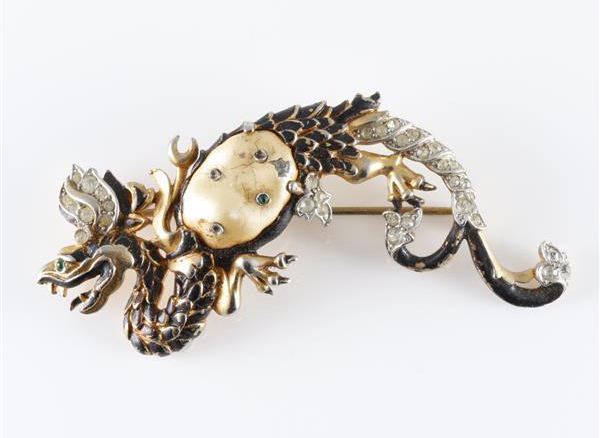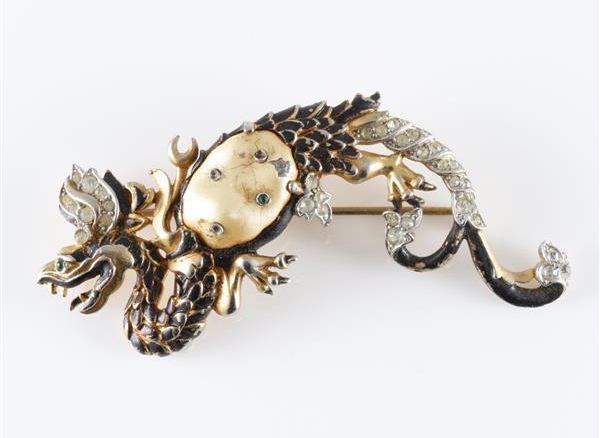 This rare and expensive piece of jewelry looks like a real-life dragon, an homage to ancient Chinese culture. The brooch has a black enamel outline with gold wash and rhinestones.
A literal pearl lies at the belly of the dragon and a pin at the back for easy attachment. It features silver detail at its tail and was designed for Trifari by Alfred Phillipe in 1942. It retails for a $375.
10. Schreiner Vintage Blue Cabochon And Rhinestone Bracelet
Date:
1950
Price:
$270.00
Designer:
Terry Schreiner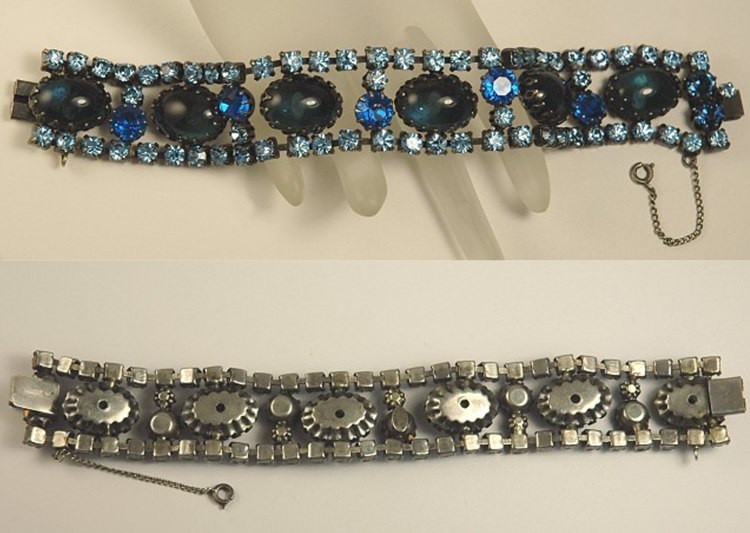 This bracelet makes a bold statement with its mesmerizing blue color. The cabochons feature dark and light shades of round blue stones.
Each stone is set and held in place with prongs. A small round blue rhinestone with two similar-shaped deep blue stones helps to hide the clasp and make it almost invisible.
The hallmark is on the other side, and the beauty sells for $270.
How To Determine The Value Of Vintage Costume Jewelries
When collecting or selling vintage costume jewelry, things might not always be the way they appear. It's important that you know the worth of what you have in your hands and go the extra mile to ascertain its authenticity. Here we'll show you how to do this like the pros do.
Examine The Brand And Design For Authenticity
Trusted and tested brands that have been on the scene for a long time, their names automatically attach value to their products, even more when they come in unusual designs.
Unique and uncommon shapes and cuts attract interest from customers and collectors and go for hefty prices.
Several vintage brands remain popular even to date. Chanel, Tiffany, Bulgari, Christian Dior, and Hobe Cartier are active names in the modern jewelry market.
Acquiring vintage costume jewelry from one or all these luxury companies will exponentially increase the intrinsic value of your collection.
Determining The Jewelry's Age Will Help
The number of years the jewelry has spent around is a good way to determine the worth of your old costume piece. So much jewelry came out in the last century. If your jewelry falls between the mid-20th century, the 70s, and 80s, they are vintage pieces.
Excellent Craftmanship Adds To The Value Of The Jewelry
Examine your vintage jewelry closely to see if it's handmade.
Handcrafted pieces of jewelry sell for high prices. However, this doesn't mean that factory-produced jewelry isn't valuable too. It's just that so much detail and attention go into hand-crafted jewelry, hence a higher demand and a higher intrinsic value.
Examine The Production Materials
With the help of a magnifying glass, search for marks indicating proof and presence of high-grade raw materials such as Gold, Diamond, Platinum, and sapphire inside your costume piece.
Collectors and buyers are all about the materials these days, and if your work falls among the categories above, you could make thousands of dollars from their sales.
N.B: An extra tip to discover which material your vintage piece comes from is to place it near a magnet. The magnet will not attract solid gold jewelry. Another trick is to run your vintage report over a liquid foundation. If it leaves a black streak behind, then your piece is authentic.
The Condition Of Your Piece Will Add Or Reduce Its Value
A broken link, a lost stone, or any missing part will directly affect the market value of your vintage value. Take extra precautions with your jewelry and always keep them safe to ensure that you get the right value for your money.
How To Identify Vintage Costume Jewelry
You'll find different styles of costume jewelry in the market, and it might get a bit confusing to know which is which, especially if you have little information at your disposal.
Not to worry. We've mapped out the easiest ways for you to get a deeper understanding of who made your vintage jewelry, where your jewelry comes from, and the age of your jewelry.
Lookout For Distinct Features
Designs such as flowers and butterflies with opal and amber stones were common elements in the ART NOUVEAU era of the early 19th century, architectural and geometric shaped patterns were synonymous to the early 1920s and 1930s.
The Georgian Era produced the oldest commercially available styles of jewelry. Elaborate designs, colorful gemstones, and yellow gold are some of the characteristics of these expensive pieces.
Spontaneous designs like this hardly go unnoticed in the crowd, which will greatly help you in your collecting journey.
Examine The Jewelry For Jewelry Stamps
Marks, stamps, logos, or hallmarks on the jewelry help determine when the company produced the jewelry. Some companies created vintage jewelry until a certain period, while others changed their hallmarks as time went by to fit into modern aesthetics.
Metal stamps like 18K, 14K (K as in Karat), and PLAT or 950 for platinum and 925 for sterling silver can help you easily identify the piece you have in your hands.
There are also country-specific marks indicating the exact place where the company made jewelry or pictorial inscriptions showing the presence of other materials. Each country has its unique symbol and standard for marking items.
Vintage Costume Jewelry Marks
There are HALLMARKS on vintage jewelry to help you get the accurate data on which they were made or released and confirm the authenticity of the products. These marks are just as interesting as vintage costume pieces themselves. Check them out below.
Purity Marks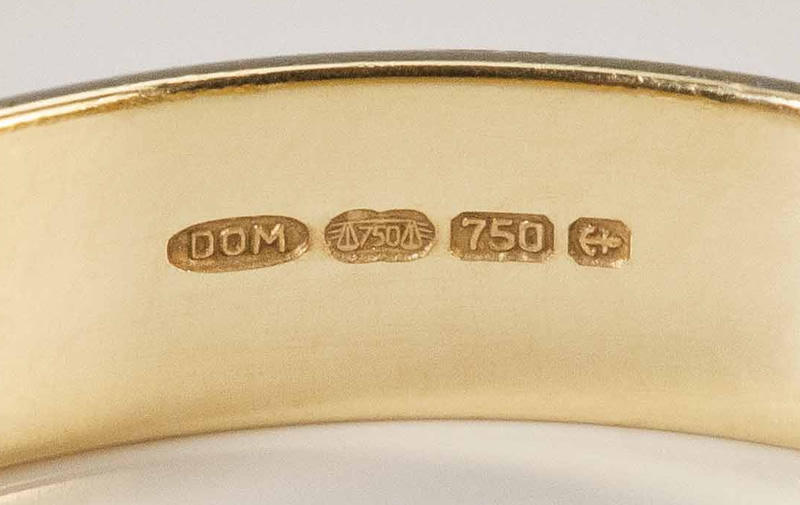 Jewelry companies use these marks to indicate the percentage of precious metals and materials used to create these pieces. Purity marks are the first mark you should look for as a collector when dealing with vintage jewelry.
Maker's Mark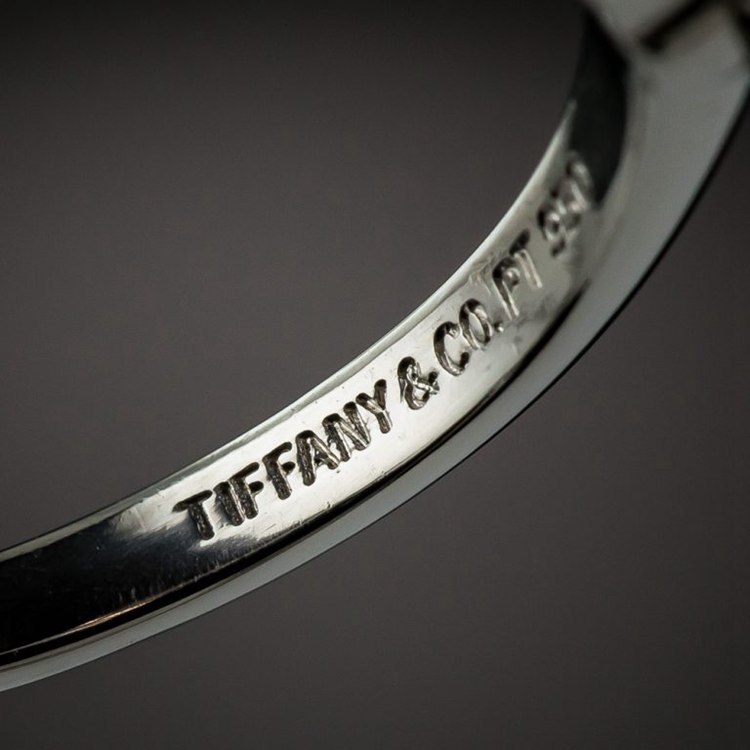 The maker's mark may include logos, company names, designer's signatures, and initials to indicate who made the jewelry. They provide proof that a specified jewelry company has truly produced a particular set of jewelry.
Numerous jewelry makers such as Tiffany, Cartier, and Van Cleef & Arpels have engraved their names, signatures, or initials on their jewelry.
Date Letters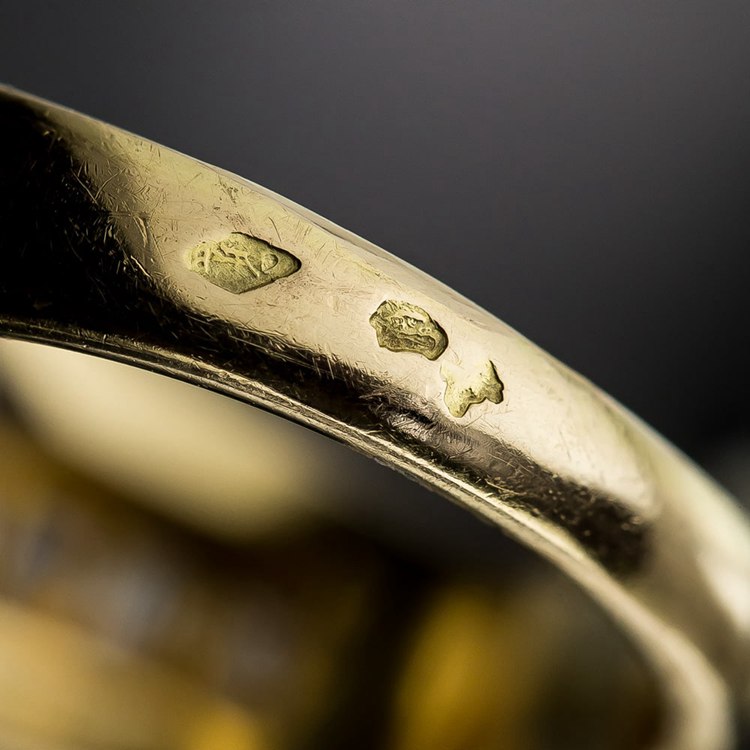 Date letter stamps were necessary in Britain up until 1999. These stamps allow buyers to know the exact date of production of their vintage jewelry.
Silver pieces with lion imprints indicate 92.5 percent silver- which means sterling silver. In comparison, the Britannia marks tell a 95.8 percent silver.
In 1838, Gold jewelry from France bore the eagle headstamp, which also implied 18 karat gold. A boar's head indicated that the jewelry came from the Paris appraisal office, while offices outside the French metropolis adopted the crab logo.
Town Marks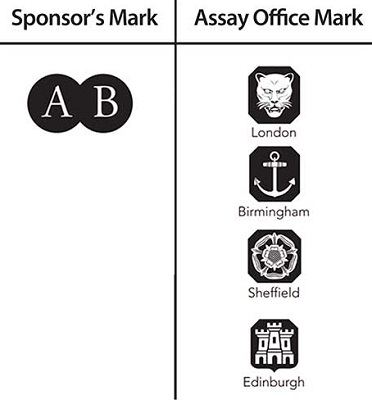 These marks came from assay offices. For example, jewelry from the United Kingdom contains a series of prints, either mandatory or voluntary, as ordered by the assay office.
One of the obligatory marks is the office mark symbols, including an anchor for jewelry from Birmingham, a castle stamp for items from Edinburgh, a leopard head for the city of London, and a rose for Sheffield province.
Other Marks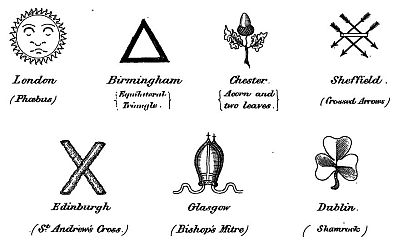 These marks are not hallmarks but are very helpful in identifying authentic costume jewelry. They include Tally marks that indicate the journeyman who created and inspired the piece.
The retailer's marks indicate a specific outlet for which the jewelry retails. Large firms like Tiffany & co and other large jewelry stores use this mark.
Duty marks are inscribed on items to show that taxes have been paid on them or exempted from paying taxes.
Additional marks in this category include patent and inventory numbers and import and export marks.
How To Value Unmarked Vintage Costume Jewelry
Unmarked vintage costume jewelry is the sleeping beauty of this category. You may have come across these pieces while decluttering the house.
Most of the earliest costume jewelry don't have marks or unique means of identification on them. A little knowledge of their worth can help you a great deal to discover their potential on the market.
We've come up with alternatives below to help you easily identify these unmarked gems when you see them instead of throwing them in the dump.
Colors
The presence of a green hue on your unmarked jewelry means that it has a very high copper content. Pieces of jewelry high in copper content have little or no value on the market, and they are of low and inferior quality.
Details
Look out for unique features on your piece. They help you determine the age and value of your costume jewelry. If the details on your jewelry are wobbled and faded, it means they are not worth much and are of low quality.
Clean looking jewelry with well-defined details no matter how long they've been in the house indicate a high value and presence of high-quality materials during production.
FAQs
What Is The Difference Between Antique Jewelry And Vintage Jewelry?
Antique jewelries has been around for more than a century, while a piece of vintage jewelry is between 50-100 years old. People wear and display vintage pieces. They are much more durable than Antique pieces and are less likely to break.
How Do I Clean My Vintage Jewelry
To clean your vintage jewelry, use a soft rag to remove specks of dust and dirt. You can use a traditional jewelry cleaner to enhance shine. Please stay away from any liquid as it may cause your jewelry to rust.
How Do I Identify Vintage Costume Jewelry?
Check for markings on the body of your piece. These markings are inside the rings, bracelets, or on their backs.
Parting Words
Collecting vintage costume jewelry is serious business. This guide is the ultimate, foolproof way to ensure that you get the best vintage jewelry and optimum knowledge of its value so that you won't fall prey to low-quality imitations. Have these points at the back of your mind when dealing with any vintage costume jewelry piece.
Not all vintage-looking jewelry is vintage. Some are imitations of older jewelry with cheaper and lighter materials.
Look for signatures to verify the authenticity of your vintage costume jewelry.